Back in September of last year (2016), as I worked on the colours for Surgeon X #05, I was invited to attend the big launch of Surgeon X #01 in the Shard building in London. It promised to be a great night (as indeed it was) and it was so cool to hook up with Sara Kenney, Karen Berger and the rest of the gang once again. Someone from the team was notably absent, though. I had known that the artistic genius behind the visuals – John Watkiss – was ill and couldn't make it. But upon arriving at the Shard, I was given some incredibly sad news from Sara and Karen: John had been battling cancer this whole time, as long as I'd worked with him, and his condition had taken a real turn for the worse.
I only had the pleasure of meeting John face-to-face a handful of times, and we had some lengthy discussions on the phone, but he made a lasting impression on everyone he ever met. John was such an open, friendly, intelligent man; a fierce individualist, with a razor-sharp wit and an ever-present twinkle in his eye. He gave me loads of great advice, and was always open to helping me out in any way he could. And, from a multi-talented artist of John's calibre, I was always ready to listen. He was so vital and full of life the last time I'd met him, only a few weeks before, so the news of his illness really came as quite a shock to me.
Ever the professional (and optimistic until the end) John showed a devotion to duty which went above and beyond as he soldiered on through the final issue of Surgeon X, all the while enduring painful chemotherapy. He made it to the end, with the talented Warren Pleece stepping in to provide finished art to John's layouts for the final 10 pages. Needless to say, working through issue #06 was one of the saddest jobs I've had to do, and the very day I finished the final page of colours I got the news that John had died.
Here's a selection of pages from Surgeon X #06, the final issue.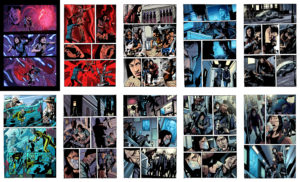 John Watkiss R.I.P.